This Facebook post has been reappearing in my feed recently, and I couldn't help but remember Kate Sanders from Lizzy McGuire.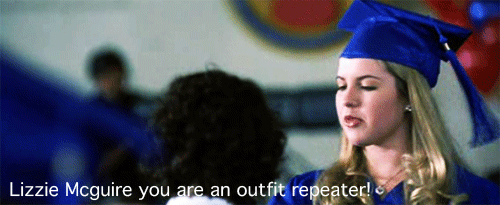 Maybe I had just underestimated the impact of this scene on my generation, or maybe I didn't realize this "rule" was preached more by other media. Whichever the case, even as a fashion/style enthusiast, I think it's ridiculous, and I'm pretty sure I'd make the same face Drake has in the meme above if I ever got called out for repeating clothes.
I have said it
before
, and I will say it again as many times as the topic is brought up:
Clothes are meant for wearing and re-wearing.
Even if one could afford to wear new clothes everyday,
it's just downright bad for the environment and the industry's sustainability
. Creativity in fashion is not just exercised through design, or finding creative ways to spend; it can also be practiced by creating several looks within the constraints of your existing wardrobe.
This top I adore because it's easy to wear with its neutral floral charm, and I first featured it on the blog during
my last trip to Hong Kong
. The skirt, on the other hand, I wore during
my first day back at work for the year.
The purchase of both pieces were well thought of, and I had already considered what they went with in my closet even before I pressed the check-out button. I discovered that the trick to prints is looking for those with base colors that I already wear often.